The kitchen is the heart of the home, yes, but it's probably also one of the messiest rooms. (I mean, it's where you store every chopping and blending gadget known to man and it harbors many mystery stains from over the years.) The cluttered nature of this busy space can make it a difficult one to show off when you're trying to sell your home. It's crucial, though, to nail a good first impression—because
kitchens sell homes
.
A stunning kitchen is more than what makes for some good reno television—it's also irresistible to buyers. Real estate agents have taken notice, taking care to specifically mention a kitchen in
69 percent of real estate descriptions
(compared to just 21 percent of listing descriptions that hype living rooms).
Unfortunately, because good kitchens are so coveted by buyers, it can be really easy to turn off a potential buyer with all sorts of common kitchen faux pas, like cluttered counters and grimy appliances.
Getting ready to sell your home and want to make sure your kitchen is putting its best foot forward? Here's what I found out when I asked four professional stagers about the biggest staging mistakes homeowners are making in the kitchen.
Your Pantry Has Some Real Chaotic Energy
In your everyday life, you might have to pilfer around your hot mess of a pantry (past pasta mountain and around multiple half-empty sacks of flour) to find the soy sauce bottle with a couple of drops left in it. This won't fly when buyers are coming to inspect every inch of your home. Instead, you want to make the buyer think your pantry looks like Ina Garten herself has graced it.

To make your pantry look magazine-worthy, keep like-items together such as cereal boxes, soda cans, and dried goods, says Heather Good,

founder of Attractive Interiors

in Phoenix.

"Another fun tip is to use woven baskets to keep like-items in one bin and make a really cohesive and organized look. Buyers will love this and [it will make] this area feel clean, tidy, and organized. If the pantry looks this good the house must be maintained well!"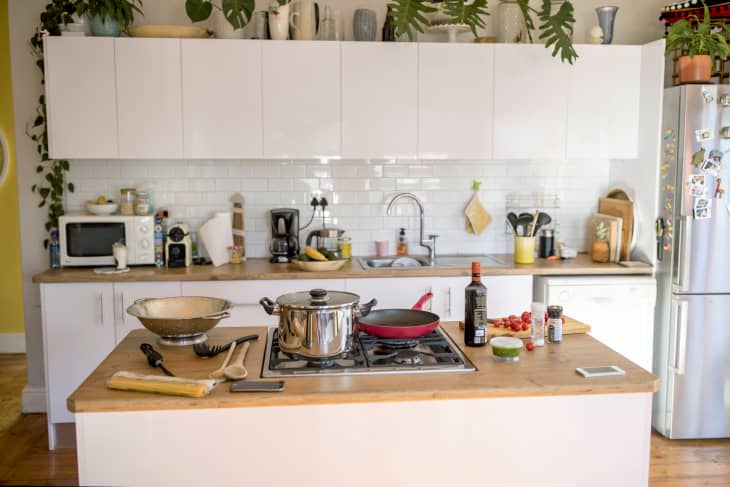 The counters are cluttered
Between the rice cooker, your air fryer, the coffee maker, and the Instant Pot, your
countertops
can be home to every appliance you need right at your fingertips. This, however, also makes your counters seem much smaller than they actually are.
"Keep it simple. If you have a lot of items on countertops, buyers may think there isn't enough storage," says Christine Cowles, owner of
Styled & Staged Santa Barbara
.
But don't think you can just stuff those extraneous items into the kitchen cabinets, she says. A good rule of thumb is to keep the cabinets and shelves about two-thirds full so that buyers can visualize all of their items fitting neatly into the space.



Your fridge looks like a kindergarten art show
You may have proudly hung up the series of drawings your daughter drew of the family dog (which may or may not look like a large abstract spider with fluffy ears), but buyers want to see sleek, clean appliances and walls.

"While it is nice to display your kids' or grandkids' artwork, it's best to leave all kitchen surfaces free of anything. Leave magnets and artwork free from kitchen appliances," says Good.

As for what artwork she likes to see displayed in kitchens? Good recommends decorative mirrors or pictures of items you might actually find in the room, such as prints of sage or parsley leaves.




Your color scheme is alienating buyers
Besides a neutral wall color, it's helpful to have pops of color through accessories in the kitchen like decorative plates and vases. Just be sure you're not using colors that could be off-putting to buyers, explains Keti Abazi, owner of
Design by Keti
in Dallas.
"One color I would avoid for staging purposes is yellow. Only about 3 percent of the population lists yellow as their favorite color. So from a selling perspective if we opt to use yellow in decorating our kitchen, we have potentially automatically alienated about 97 percent of the potential buyers. That's a very bad selling strategy," Abazi says.
Greens and blues, however, are always winners.
The lighting is less than ideal
Even if you aren't exactly the next champion of "The Great British Bake Off," no one likes working in a dark kitchen, says Sara Affonso, owner of
Styling Spaces Home Staging & Redesign
in Nashville.
If it's difficult to make out a recipe, or you lack access to a window that provides natural light in the kitchen, adding some strategic light fixtures can change the way your room looks.
"You can purchase inexpensive under-counter lighting at your local hardware store. This will highlight the backsplash and countertops and illuminate the kitchen," she says. "Also, I would highly recommend changing out dated flush mounts (
boob lighting
) and pendant lighting."